BJC Medical Group is seeking a Rheumatology physician just 20 minutes from Downtown St. Louis . Join our successful and growing group physicians and APPs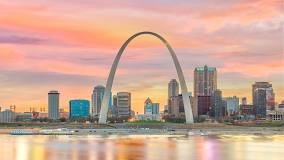 in an outpatient clinic in beautiful Edwardsville, IL .
The group is based in a beautiful, newly remodeled building which also has Urgent Care (great referral source of new patients), OBGYN, Ortho and other sub-specialists.
Practice Overview:
Outpatient only and minimal to no call
No weekends or nights
36 patient contact hours per week
EPIC EMR and spacious beautiful clinic
Urgent care in the same building - great source of new patients
Employed position with ample support staff and mentorship of experienced board certified Rheumatologists
Experienced and friendly staff
We offer a competitive salary and comprehensive benefit package including:
Guaranteed salary plan
Health, life, dental, and disability insurance
Relocation assistance and signing bonus
Retirement plans include matching 401k/403b, 457b and pension
4 weeks' time offer plus an additional 6 holidays and 1 week CME
Edwardsville is just 20 minutes from Downtown St. Louis
Family Circle named it "Top 10 Best Towns for Families"
Home to Southern Illinois University Edwardsville
Get the best of both worlds - small town feel just 15 minutes from big city amenities!
Abundance of shopping, dining and entertainment options
Children's Museum and Ars Center
Multiple bike trails, 6 beautiful parks and 4 lakes
We are a physician-led medical group of more than 700 providers based in St. Louis, MO. We serve our region through our 13 community hospitals and service organizations, and along with our partners at the Washington University School of Medicine, we offer our patients access to some of the finest sub-specialty care in the world, while maintaining our community focus. BJC Medical Group reaches our communities through more than 130 clinic locations, providing a full spectrum of care ranging from Family Medicine to advanced cardiac services. We hope you will consider joining us. "The World's Best Medicine Begins with You."
BJC Medical Group is the multi-specialty physician organization of BJC HealthCare. Since 1994, BJC Medical Group has provided access to the worlds best medicine through caring people and integrated systems. The providers are nationally recognized for excellent patient satisfaction and quality health care. BJC Medical Group physicians are trained and certified in over 25 medical specialties and serve patients in more than 125 locations in the greater St. Louis, mid-Missouri and southern Illinois areas.